Text-a-Tip
Details

Last Updated on Wednesday, 16 January 2013 11:20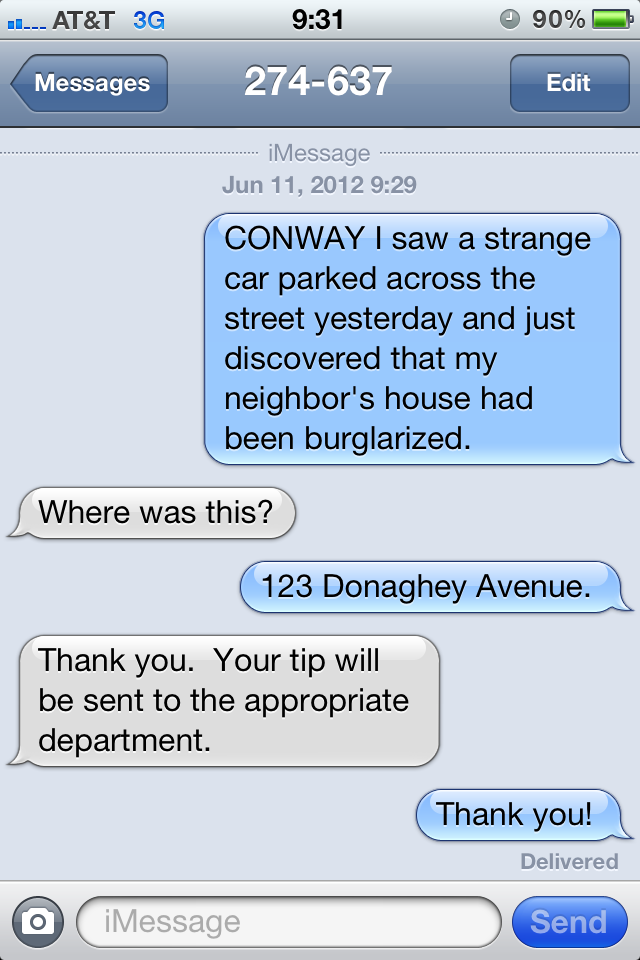 Due to the enormous popularity of text messaging the Conway Police Department is now utilizing state of the art technology to receive crime tips. TipSoft SMS, short message service, is 100% anonymous. No one will know the identity of the text tipster. The technology routes messages through a server that encrypts cell phone numbers before they get to police. The technology also allows investigators to securely reply back to the cell phone without compromising the tipster's identity.
Some of the advantages of text messaging include being able to communicate in real time with texters. It also allows people to notify police when calling may not be feasible or safe. Texting a tip is easy. All you have to do is:
• Text Message C-R-I-M-E-S (2 7 4 - 6 3 7)*
• Use the key word Conway.
In addition to text messaging the department is also offering WebTips with the same two-way dialogue capabilities. Chief A.J. Gary hopes to recruit teens and young adults who wouldn't normally pick up the phone to call police. "It's their personal safety channel to alert someone of a possible danger. For example, if they see a weapon or a posting on MySpace or Facebook that could indicate danger or they have knowledge of a drug deal."
• From the Web: Click here for Submit a Tip online.
*cellular provider's message and data rates may apply