CPD Divisions
The Conway Police Department is made up of 117 Sworn employees and 45 non-sworn employees. These staffing levels include personnel from the Conway Emergency Operations Center and Conway Animal Welfare Unit which fall under the Conway Police Department.
Patrol Division: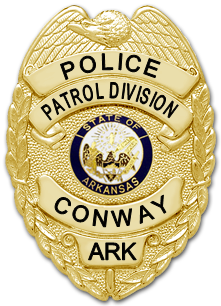 The Patrol Division consists of 86 sworn officers and 2 non-sworn who are assigned to one of four Patrol Teams and the Traffic/Special Events Team. In June of 2009, the Conway Police Department went to geo-graphical policing in an effort to enhance its community policing efforts.
The Patrol Division is made up of four patrol teams who provide 24-hour police service to the City of Conway. Patrol Teams are led by a Lieutenant and assisted by two Sergeants. Each Sergeant is responsible for police activity and response to calls for service in one of two zones that the city is divided into.
The Traffic/Special Events Team focuses on providing two services. Tasks such as the enforcement of traffic laws, investigating traffic accidents and accident reduction are among the primary responsibilities of the traffic unit. The Traffic/Special Events Team also coordinates/provides the necessary manpower and resources to allow for the City of Conway and various non-profit organizations throughout the city to hold events in a safe and efficient manner.
The SWAT team is not a full time assignment, but an additional duty assignment for which officers are selected and have to complete a rigorous training program to become members. They are called out to handle high-risk situations which, by their nature, pose a high risk to the life and/or safety of the citizens of this community and any responding law enforcement personnel. The response to this required well-disciplined, specially trained and equipped personnel, functioning as a team to conclude any situation safely and effectively. The team is utilized for such functions as barricaded person(s), hostage situations, high-risk apprehensions, high-risk search warrants (narcotic and/or criminal) and any other activity that is directed as such by the Chief of Police or his designee.
Investigations Division: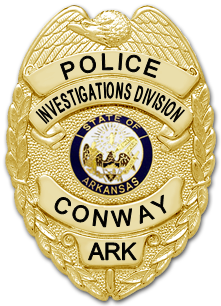 The Conway Police Department Criminal Investigation Division consists of 26 sworn officers and 1 non-sworn who are assigned to Investigations, Narcotics, K9, School Resource Officers, and Crime Analysis/Intelligence.
The K9 Unit consists of two handler/dog teams. K9 "Chewie" is a Belgian Malinois assigned to his handler Officer Matt Edgmon. K9 "Dax" is also Belgian Malinois assigned to his handler Officer Richard Shumate. Both canines are trained in narcotics detection (marijuana, methamphetamine, cocaine, crack, and heroin), building searches, criminal apprehension, tracking, evidence recovery and other areas. Both dogs are certified with the National Narcotics Detector Dog Association (N.N.D.D.A.). Our dogs live with the handlers to insure a strong bond and dedication of our K9 teams. The canines are trained and socialized for public relations work and public demonstrations. They are available to give demonstrations to schools and other groups upon request.
SROs (School Resource Officers) are responsible for providing law enforcement services to the students and faculty/staff of the Conway Public School District. In addition to those services, the officers act as mentors to the students and provide a wide range of educational and support opportunities.
Crime Analysis is a law enforcement function whereby data relating to crime are collected, collated, analyzed, and disseminated. Data are primarily generated from records and reports within the agency. Additional data may be obtained from outside sources, such as other law enforcement agencies, other government agencies, private organizations, and other elements of the criminal justice system. Crime analysis can be an effective tool for predicting some types of crime and projecting workload. Crime analysis also has an intuitive component, where trained officers identify crime patterns from factors not easily quantified.
Administration Division: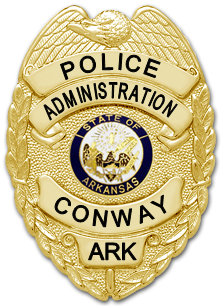 The Administration Division consists of 9 sworn officers and 38 non-sworn who are assigned to the Communications Center (CEOC), Training, Animal Welfare Unit, Warrants, Records, Fleet, Property and Evidence, Office of Professional Responsibility, and Technology Coordinator.
The Conway Emergency Operations Center (CEOC) functions as the communication and coordination center for both the City and County emergency response services and disaster preparedness, providing a central point for coordinating operational, administrative, and support needs of the city and county. The CEOC is one of the most modern, state-of-the-art facilities in the state. The technology allows emergency services to communicate across different communication platforms. The center is staffed by 23 Conway Police Department and 15 Faulkner County Sheriff's Department Telecommunicators. The communications center is the Public Safety Answering Point (PSAP) for all emergency calls within the City of Conway, Arkansas. The communication section is staffed 24/7 and has access to all federal, state, and local law enforcement agencies via computer terminal provided by the Arkansas Crime Information Center (ACIC) and the National Crime Information Center (NCIC). To provide a stress-reducing work environment for the Telecommunicators special consideration was given with regards to noise control, lighting sources, spacious work area and high vaulted ceilings. Each console (work area) has 4 flat panel computer screens with a keyboard and mouse. Telecommunicators have the ability to work while sitting or standing, the desks can be raised or lowered as desired.
The Animal Welfare Unit currently employs one full time director, three full time officers, one full time kennel technician, one full time and one part time customer service representative, and one part-time kennel technician.
The City of Conway purchased an adoption trailer in the summer of 2007. This was made possible through funds collected from the sale of city licenses. These funds also allow the department to purchase vaccines and other supplies needed for the general health care of animals. Although the Animal Welfare's primary focus is public safety, this has been instrumental in adoptions and public awareness of animal welfare. "Friends of the Conway Animal Shelter" was founded in 2005 and work to raise funds deemed important for the animals' welfare. Since their inception they have spayed/neutered over 800 animals and provided some upgrades to the facility.